Nothing says "fun" like romantic ideals being destroyed by monsters who have hot dogs for teeth.
Paralleling the first five years of Ray Dennis Steckler's career, Del Tenney's most accomplished films bear a tranquil power. They're literal explosions of erratic 1960s American pop culture, impervious to boring fact checks and stuffy criticism. Storefront shadows, finger-paint gore, lo-fi rock 'n' roll — all you can do is sit back and smile. Less creative than Steckler's most intuitive moments (like The Lemon Grove Kids Meet The Monsters), but more polished overall, Tenney's work with partners Richard Hilliard and wife Margot Hartman was uneven save for a back-to-back, sensationally titled double bill from 1964. The Horror Of Party Beach and The Curse Of The Living Corpse have returned to please-please us.
A small coastal town is besieged by ugly, radioactive zombie-fish fiends. The "kids" dance on, even in mourning. They've got no choice. After all, this is The Horror Of Party Beach! Embracing sexual zingers from the pages of Cracked with freakish kill scenes and an unglued soundtrack (featuring local Jersey boys The Del-Aires) that would make Joe Meek proud, Party Beach plants the mood and digs its cheap claws in. Real deep.
The Horror Of Party Beach is a trash-art-horror miracle that would feel just as natural on a drive-in triple bill between Blood Feast and Jaws as it would on a museum wall. Beautifully photographed and featuring a score that sounds like a cemetery jam session between Joe Meek and a ten-year-old with a Farfisa organ, this is the story of punks versus nerds versus radioactive monstrosities on a beach in H.P. Lovecraft's dreams. Teenage innocence is destroyed as gutter-noir shadows overtake the suburbs and slumber parties transform into mass graves. Through it all, the real world is washed away with a suicide soda of pop-art gore, false science, and songs called "You Are Not A Summer Love" and "Wigglin' Wobblin'."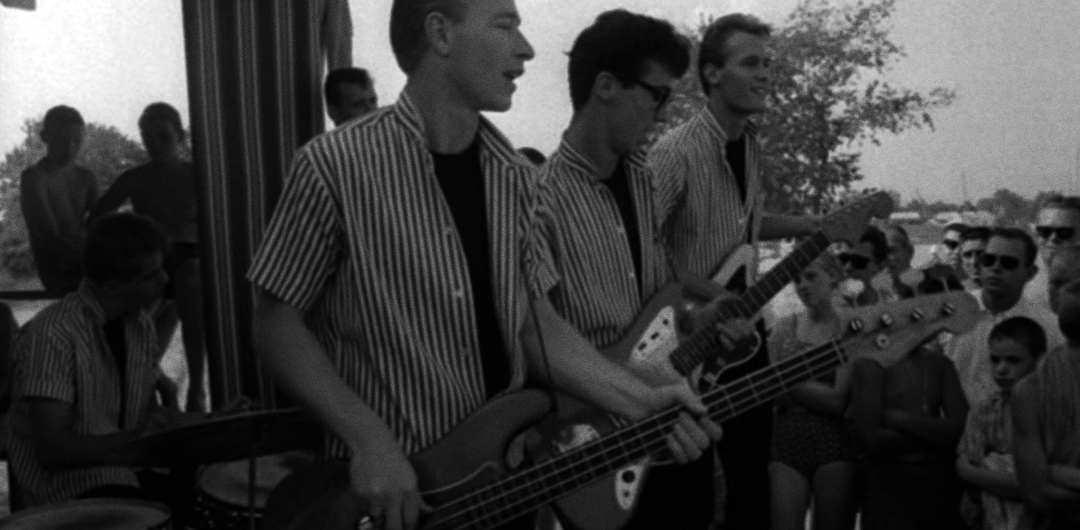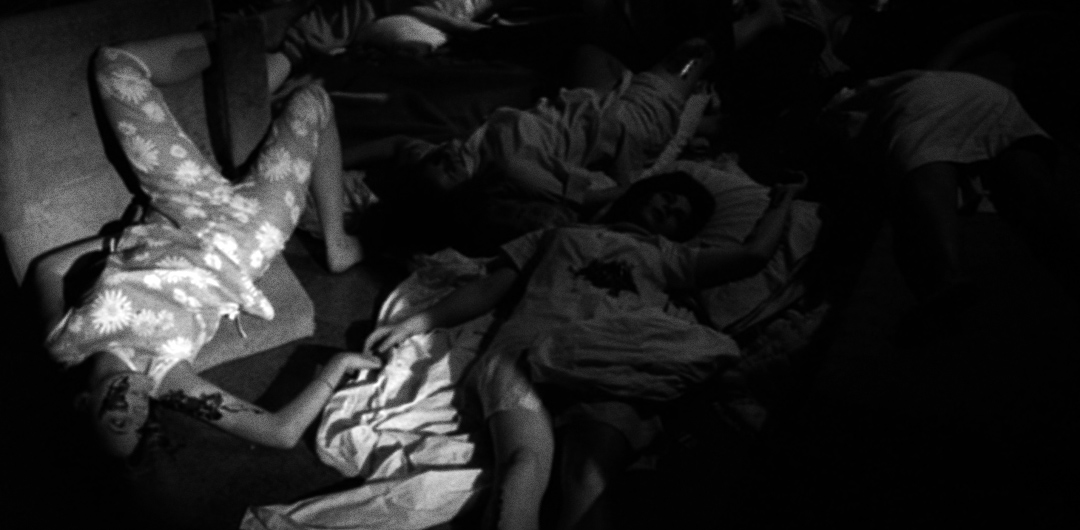 As twilight rolls over the waves, we leave the Telecasters behind and head for a cardboard tomb.
Rufus Sinclair's funeral is underway, but is he really deceased? If the Sinclair clan doesn't adhere to the strict rules outlined in his will, they might find out, thanks to The Curse Of The Living Corpse! Exchanging the happy-go-lucky fidgets of Party Beach for somber, death-obsessed moods, Curse loses the off-beat, but not the fun. It's a more consistent crime thriller than Tenney's earlier Violent Midnight, but just as impressive from a technical standpoint. So what makes the film extra appealing?
Curse is a mix of "Old Dark House" trappings (dopey cop comedy, singular location), Dark Shadows production values, and visual Ed Wood fixations (lo-fi crypts at night, men in black capes). The credits tell us it's 1892, but the delivery is pure 1964. That's the real hook — boiling lust, terrific gore, and ghastly violence prickle it up like no other year can. Excellent acting from the always dependable Margot Hartman, Roy Scheider (yes, the guy from Jaws), and a bit part from Candice Hilligoss (Carnival Of Souls) caps it all off with melancholy class.
By the way, these movies were made in Connecticut.