Short films are like Hi-Chews — bite-size flavor explosions that should be savored before moving onto the next one, and the one after that. Given the bottomless well of compelling shorts that exist, we decided to carve out a space where we could gush about our favorite discoveries. Shorts That Tore Our Heads Off is an ongoing series of articles exploring underseen short films from all centuries. The only criteria for inclusion is that each one has to . . . well, tear our heads off. Every volume will cover five shorts in chronological order that deserve to be appreciated and re-watched anywhere from three to fourteen times before you die.
Hold onto your head!
The Diane Linkletter Story (John Waters, 1970, Video Search of Miami VHS)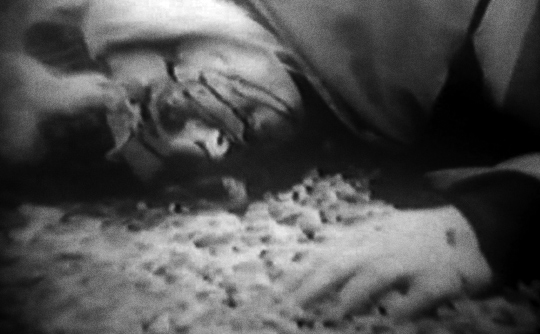 This is ten minutes in heaven with three beautiful creatures from the astral lagoon. In a flurry of zooms and jump-cuts that resemble a crude home movie, TV personality Art Linkletter (David Lochary) and his wife Lois (Mary Vivian Pearce) berate Diane (Divine) for her poor life choices ("That Jim you're seeing — he looks like an animal!"). And then it all goes to hell. I'll never have the pleasure of sitting in a Baltimore living room while John Waters's Dreamlanders yell at each other. And that's just one of dozens of reasons why this movie is such a delight. Made between Mondo Trasho and Multiple Maniacs, this is a magic materialization of Waters's personal Baltimore babylon; no one else could have made an exploitive, coke-smeared satire of a real-life tragedy that was filmed just 24 hours after the actual event occurred. And if they did, it wouldn't have Divine screaming, "I'm not pregnant, BUT I WISH I WAS!!"
The Psychotic Odyssey of Richard Chase (Carey Burtt, 1999, Other Cinema DVD, YouTube)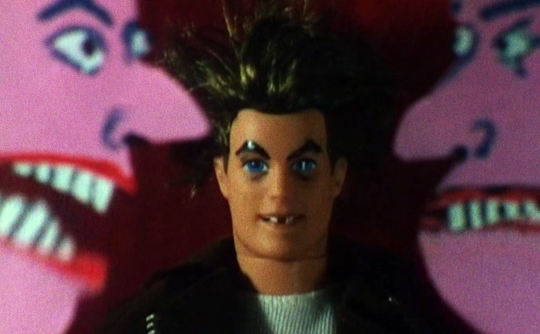 If more Netflix true crime shows starred Barbie dolls instead of humans, I would watch them. The Psychotic Odyssey of Richard Chase shares the true life story of Chase, a serial killer who was dubbed "The Vampire of Sacramento" by the media when he was arrested in 1979. But there's a twist — this film was shot on 16mm by experimental filmmaker Carey Burtt using nothing but dolls, stuffed animals, crude illustrations, photo collages, pitch-shifted narration, and evil synthesizers. Like Psycho Killers, the 1990s comic book series that chronicled the unauthorized biographies of serial killers, Psychotic Odyssey makes the subject matter more palpable and disturbing. Because it disarms us. When a chilling story is communicated with such crude, child-like methods, it ends up feeling like a home movie made by an adolescent Charles Manson. This is ultra-creative, trash-art nightmare fuel that packs just as much emotional heft into 6 minutes as the 171-minute director's cut of Midsommar.
Black Santa's Revenge (David F. Walker, 2007, Self-released DVD, Vimeo)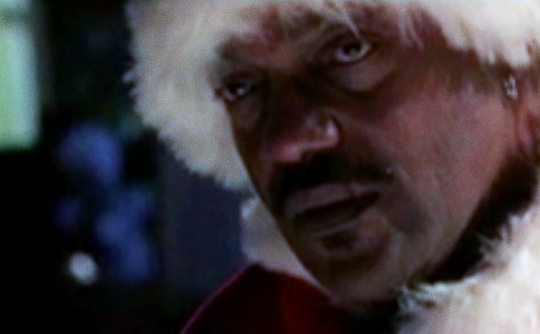 More people need to know about the work of David F. Walker. From his essential Black cinema 'zine BadAzz Mofo to his more recent writing in comics (Bitter Root, Luke Cage), Walker has built a legacy out of tight, vibrant storytelling with an edifying edge. And a love for genre. So it makes perfect sense that Black Santa's Revenge follows suit. Written and directed by Walker and starring genre legend Ken Foree (Dawn of the Dead, From Beyond), this is a simple, energetic valentine to 1970s exploitation that features squibs, CGI head explosions, and Foree saying, "Making a list, checking it twice, gonna put all of you mother fuckers on ice!" In other words, it's a total blast. I mean, who wouldn't want to see Ken Foree dressed up like Santa while tearing off some guy's ear? Don't watch Die Hard for the zillionth time this holiday season — watch this instead. Then treat yourself by picking up every comic book that Walker has ever written.
Once It Started It Could Not End Otherwise (Kelly Sears, 2011, Vimeo)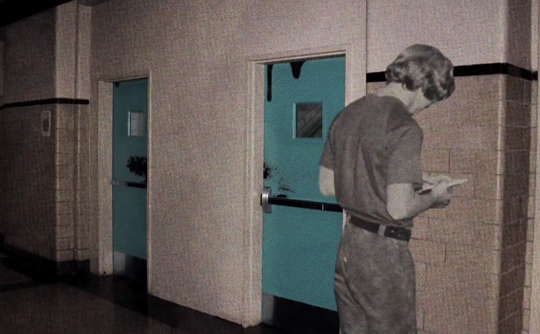 Stephen King's novel Carrie was told through newspaper clippings, journals, and eyewitness accounts. It was a smart way to make the story feel more urgent and real. Once It Started It Could Not End Otherwise takes this concept to the next level. Presented as a "true story" via paper cut-outs of yearbook photos, limited animation, and synth drones, this is an eerie, hypnotizing experiment from artist Kelly Sears that's both beautiful and unsettling. Although we're never told exactly what happened at the doomed school ("Certain yearbook messages suggested that high school life was beginning to unravel"), Sears fills her short with wall-to-wall anxiety at the hands of an unseen evil. And when black gunk starts seeping out of drinking fountains, lockers, and the mouths of students, we don't need anything else. I love that the end credits read, "Investigated and compiled by Kelly Sears."
Viola Vs. the Vampire King (Kevin Fermini, 2017, Vimeo)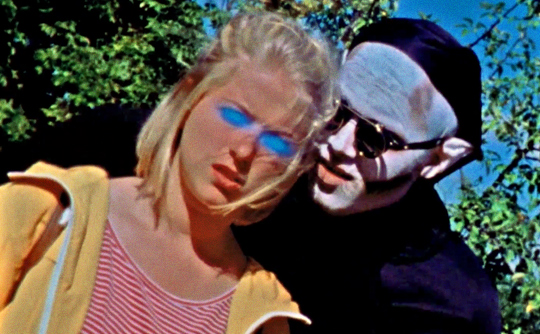 If this was 70 minutes long, it would be my new favorite feature-length movie. Shot on Super 8 as a student project by Kevin Fermini, Viola Vs. the Vampire King feels like what would happen if Evil Dead, Mario Bava's lighting rig, a NES cartridge of Super Mario Brothers, and some paint-by-numbers thrift store paintings were placed in a blender and liquified. The title explains the plot, so we're free to luxuriate in the meticulous attention to details: impressionistic colors, stop motion gore, animated overlays, creative compositions, and ENERGY! The aesthetic is both nostalgic and forward-thinking — this looks like it could have been shot in 1979 or 2078. Every choice builds towards the whole and Fermini and pals never blow it. Truly otherworldly and filled with joy, Viola is easily one of the most accomplished Super 8 shorts that I've ever seen. Whenever you need to smile, watch this movie.