Announcing RUN COYOTE RUN!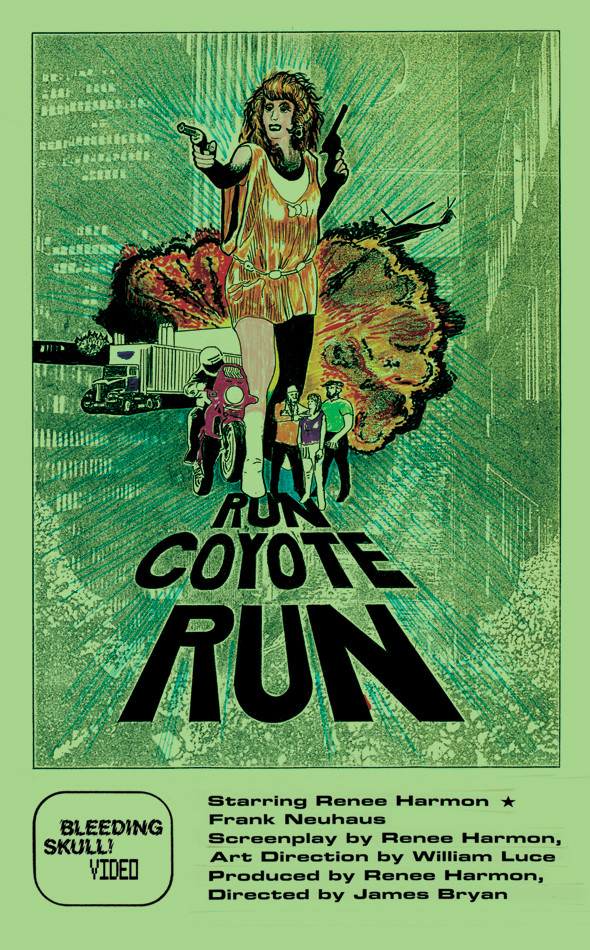 We're happy to announce that our third BLEEDING SKULL! VIDEO release in collaboration with Mondo is Run Coyote Run (1987)!
DETAILS AND TRAILER ARE FORTHCOMING! VERY SOON!
For now, read this about the movie:
Run Coyote Run is the legendary lost project from exploitation juggernauts Renee Harmon (Lady Street Fighter) and James Bryan (Don't Go In The Woods). Compiled from over a decade of footage, this patchwork brain-crusher makes the recycled lunacy of Silent Night, Deadly Night 2 seem logical by comparison. Anne Wellington (Harmon), a psychic police officer, is the sister of Lady Street Fighter's Linda Wellington (Harmon). Anne is trying to find Linda's killer while eluding axe murderers, occultists, the FBI, and an incriminating cassette tape. If the plot sounds semi-lucid, don't worry — the execution bears no resemblance to a reality that scientists, therapists, or archeologists are aware of. Actors age ten years between scenes. Brawls begin in apartments, but end in a warehouses. A stuffed animal appears on the chest of a corpse for no good reason. Ambitious, nightmarish, and impossible to comprehend, Run Coyote Run rallies for both determination and madness, but never chooses sides. In the words of a cop at the movie's climax: "This is like the day of last judgement."
Recently discovered in the trunk of a used car, Run Coyote Run was completed in 1987 by director James Bryan, but never officially released. The BLEEDING SKULL! VIDEO release of Run Coyote Run marks the first time that the movie has been available on home video in any format.